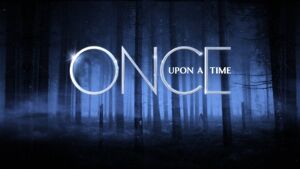 Once Upon a Time
 is an American fantasy-drama telievision series 
created by
 writers Edward Kitsus
 and Adam Horowitz
,
 that premiered on Sunday October 23, 2011, on ABC
. The show airs Sunday nights at 8:00 pm ET/
/7:00 pm CT
.
The series takes place in the fictional seaside town of Storybrooke, Maine, in which the residents are actually characters from various fairy tales that were transported to the "real world" town and robbed of their real memories by the Evil Queen, Regina, using a powerful curse obtained from Rumplestiltskin. The town's only hope lies with a bail bondswoman, Emma Swan, the daughter of Snow White and Prince Charming, who was transported from the fairy tale world before she could be cursed. As such, she is the only person who can break the curse and restore the characters' lost memories, aided by her son, Henry, with whom she has recently reunited (after giving him up for adoption upon his birth), and his book of fairy tales that holds the key to ending the curse. Henry is also the adopted son of Regina (who is the mayor of Storybrooke), providing a source of conflict between the two women.
Each episode focuses on a character back story. One segment details the character's past life that, when serialized, adds a piece to the puzzle about the primary characters and their connection to the events that preceded the curse and its consequences. The other, set in the present day, follows a similar pattern with a different outcome but also offers similar insights.